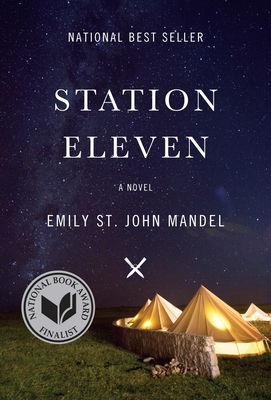 I would like to start briefly (or not-so-briefly) posting my thoughts about every book I read. This is not quite like a review. Just thoughts. To me, there is no pleasure quite like thinking about books.
The most recent book I read was Station 11, by Emily St. John Mandel. I read it because Amy handed it to me and said "hey, you should read this book. I want to know your thoughts." So I did.
I didn't realize that it was a pandemic book, because I just dove straight in and didn't even read the back cover. But it is, and that's not a spoiler. (These, by the way, are going to be spoiler-free thoughts, which might be difficult, but I'll try.)
Station 11 starts out as a book about a pandemic, but just as the panic is starting, suddenly the book jumps ahead 20 years to the post-apocalyptic universe that exists when 99.9% of humanity has been wiped out. And then it jumps back in time, to before the pandemic. I think the point is to make you think about the infrastructure that exists, and how normal it seems…the electricity, the airplanes, the fast food, the gadgets, the internet…but how dependent it is on millions of humans in thousands of random jobs, doing their little part to keep the system running. And how everything would crumble, and what humanity might look like after 20 years of not having those things. How the worst in us would come out, but also the best in us.
Thought 1: The Gap Effect (A term I made up, because I needed a term)
I kept perceiving flaws with how Mandel depicted the pandemic and aftermath. Little things, like, "why is no one moving to farms?" and "why aren't they riding bicycles?" as well as some giant plot holes with the pandemic itself that I suppose I only think about because I've just experienced a pandemic. For instance, we now know that in the event of a catastrophic pandemic, rich people would immediately quarantine, while poor people would keep working their "essential business" jobs. This would leave rich people in a much better position to survive than poor people. This, however, was never touched on in the book.
I kept telling myself that these little things didn't matter. And in a way, they didn't. Mandel did something very smart, in that she kept the world of her book very small and focused on her characters. Maybe more rich people in the world survived than poor people. Maybe the death toll wasn't as bad in say, Asia. Maybe people in Holland rode bicycles, and people in Colorado moved to farms. We don't know, because the three or four characters she followed knew next to nothing about the world beyond their immediate surroundings. In the universe of Station 11, the pandemic killed the majority of people in existence. This disrupted the global communication network. This plot trick allowed Mandel to keep us in the dark about what the world looked like outside of the realm her characters inhabited.
While this was smart, I found it unsatisfying.
With many forms of media, a lot of my enjoyment depends on whether or not there is a gap between the premise I think is going to happen and the premise that actually happens. For instance, when I was a young teenager, one of our VHS tapes had a preview of a movie called Never Been Kissed. The movie was about a 25-year-old woman who was totally uncool back in high school, who then went undercover and pretended to be a high school student again. The preview made it seem like this time, with the natural confidence that comes with age, she would be "cool," and it would be an interesting redemptive experience.
But when I finally saw Never Been Kissed, there was a huge gap between the movie I thought I'd see and the movie I actually saw. Turns out she was just as awkward at 25 as she'd been at 18, and while she became cool eventually, it was more through dumb luck than anything else. So I was left with this hollow feeling, that the movie could have been so much more than it was.
This frequently happens to me with movies and songs, but it's much more rare with books, which is why books are my favorite form of media.
But unfortunately, Station 11 had the gap effect for me. The premise of "99.99% of people are killed in a pandemic" is fascinating, and my mind spins in a billion different directions, imagining what might happen. And yet, so much of this was left unexplored in the book, leaving me longing for what the book could have been.
Thought 2: Literary Fiction
In the classes I took for my writing minor, literary fiction was considered the end all be all of books. I found a lot of it frustrating and pretentious, and a lot of it made me experience the gap effect, because writing beautiful sentences always seemed to be prioritized over delivering on a premise.
Nevertheless, there's something about the literary style of writing that brands things more deeply onto my brain. I frequently think about those books and stories I read in class. At their best, they provided deep insight into the human condition and how people think.
Station 11 is a literary book with a post-apocalyptic premise. And while the gap effect happened for me in a way it maybe wouldn't have happened if Mandel had stuck to a more conventional literary "plot," I still deeply appreciated this combination of genres. I adore books that have an interesting premise. What if you found out, after you were orphaned, that your parents had been part of a secret organization they never told you about? What if you lived in a castle, but were so poor you were barely surviving? What if you'd spent your whole life trying to please your relatives that you didn't like, so that they would provide for you in your upcoming spinsterhood old age, and then discovered that you only had a year left to live? What if a witch's curse turned you into an old lady?
Usually, my main gripe with literary fiction is that the premise is often so boring. Someone just kind-of wanders through an ordinary life and has deep beautiful thoughts about it all. So if you know of any other books like Station 11, a literary fiction book with an actually interesting/wild premise, please recommend!
Thought 3: Cleverness
I love cleverness in books, and I discovered something very clever in this book that I'd like to talk about. I don't really feel like this is a spoiler, but maybe it kind-of is. I'm going to talk briefly about some things that happen in the middle of the book, but none of these things are supposed to be "surprises" of any kind.
One of the most interesting characters is this woman named Miranda. Miranda is the most insightful out of all the characters. She sees right through people, understanding when they're putting on an act, or trying to be someone they're not. She doesn't really do anything with this information, just kind-of quietly observes, but through her, we as the reader get a lot of insight into the human condition.
Miranda is a deeply creative and introverted character, and she spends a lot of her time creating sci-fi comics. She tends to incorporate things from her real life into her comics. For instance, before Miranda's marriage, she worked as an administrative assistant and drew comics in her down time. She loved the work environment, with its clean, quiet order, and vast windows. When she drew her comics, she incorporated this room into it, only with a view of a weird planet landscape instead of a view of Toronto. In fact, it's hinted that the main character of her comics is, in some ways, a version of Miranda herself.
Miranda is from a little island between Vancouver Island and the British Columbia mainland. When I looked up this island to see if it was a real place, I discovered that not only is it real, but the author, Emily St. John Mandel, is from there.
Still, it wasn't until I discovered that Mandel worked as an administrative assistant as her day job that I realized that Mandel wrote herself into the book as Miranda. Mandel has deep insights into human behavior, but she wrote them as Miranda's insights. Mandel incorporated things from her real life into her book, just as Miranda incorporated things from her real life into her comics. Mandel wrote herself into her book as Miranda, just as Miranda wrote herself into her comics.
I find this deeply clever and fascinating.
Those are my primary thoughts upon reading this book. I think it's the sort of book that almost everyone will appreciate in these pandemic times. Of course it covers some very heavy topics, particularly an enormous amount of death, including murder and suicide. But there was nothing especially graphic. The book never tries to shock you, just make you think. It will never be my favorite book, but it is a book that I think most people will enjoy.